Our loading yard is large and well-equipped enough to handle several large trucks at once. We consistently work with trucking groups in an attempt to get the best rate for our customers. We are happy to organize the transportation or trucking company for you, or you can do it yourself. Many of our customers also bring their own trucks to pick up their orders.

We have shipped our trees all over the United States, Canada, and even overseas. Give us a call for more information about our shipping policies as well as our beautiful North Carolina Fraser Firs.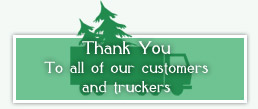 If you have any questions about Randal & Kimberly Sides Nursery, please contact us at 336.372.2526, email us, or use our online request form.